Our specialists re-sharpen band saws for metal, which allows achieving initial cutting properties, and in some cases even better.
Saws with variable and constant tooth pitch are sharpened.
Band saws with cutting edge wear up to 0.2–0.5 mm are subject to restoration (sharpening). Correct operation and timely regrinding when the above-mentioned wear of the teeth is achieved allows not only to extend the service life of the saws up to 3-5 times, but also to improve their technical performance.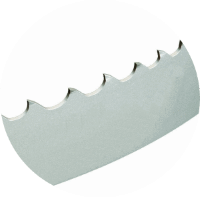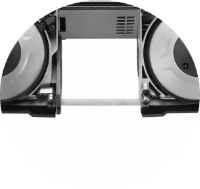 Brief conditional economic justification on the example of a bimetallic band saw for metal M-42 4150*27*0.9 (tooth pitch 2/3)
4150 27*0,9 (2/3)

2 purchase

1 sharpening

3 purchase

2 sharpening

4 purchase

3 sharpening

5 purchase

4 sharpening

6 purchase

5 sharpening

New saw

1000 uah

1000 uah

1000 uah

1000 uah

1000 uah

Resharpening

200 uah

200 uah

200 uah

200 uah

200 uah

Saving

800 uah

1600 uah

2400 uah

3200 uah

4000 uah
With proper operation, it is possible to achieve savings of up to UAH 4000 per saw! Calculate the number of band saws purchased by your company per month and determine the level of savings.
When sharpening from 10 saws – 5% discount.
Called back or write to us and we will advise you about this in more detail.
Enterprises of the machine-building, metallurgical and other industries that once used this service, as well as factories and workshops, as a rule, become our regular customers!
Nonresident clients can use this service by sending us the saws by delivery service (New mail, Autolux, etc.).
The first (trial) sharpening is carried out without advance payment. Our clients can test the work of sharpened saws, after which they can pay for their sharpening.